For most of us, the roof is an afterthought. We don't realize how critical this component is until it starts to leak. The roof not only keeps your home dry, but it also contributes significantly to the overall appearance of the house. So when building a new house, adding on, or re-roofing, you should consider aesthetics as much as function when choosing a material.  Here are the types of roofs we install: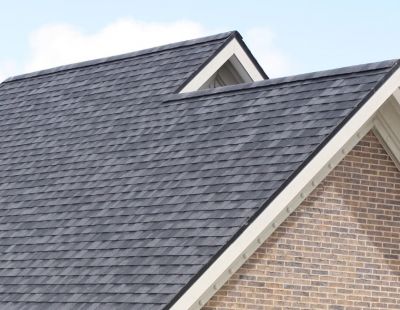 Composite shingles, often called asphalt shingles, are the most popular type of roofing material. There are two kinds: three-tab and architectural shingles. Both are made of fiberglass mat topped with asphalt and mineral granules. Some come equipped with zinc plating to discourage algae build up. They are flexible so they can adapt to the roof's contraction and expansion.
Lifespan for shingles is usually 20 to 30 years, and they are easy to replace if you lose one or if it gets damaged.
A downside of composite shingles is that they are made of petroleum-based materials, making them one of the least sustainable materials available for roofing. On the other hand, they can be recycled: Ground-up shingles are added to the pavement to improve quality when making roads.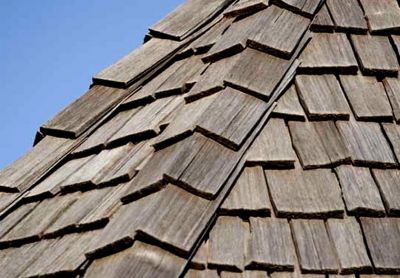 Aesthetic reasons are the main reason why people choose to go with a wooden roof on their home. These types of shingles are generally made from red cedar, redwood, and cypress.
Wood shingles are machine-cut and feature cleaner edges and a smooth surface to produce a uniform appearance. Wood shakes are hand-cut from blocks of wood which gives them a rustic appearance. They're thicker too, making them slightly more expensive than wood shingles.
The lifespan of wood shake and shingles is shorter than most other roofing products, lasting between 8-25 years, with proper maintenance. There is a compressed version that comes with a 30+ year lifespan, but of course, it's more expensive.
When it comes to energy efficiency, wood is a natural insulator, so these shingles are about two times more efficient than asphalt shingles. Also, wood shingles are 100% natural, making then very environmentally friendly.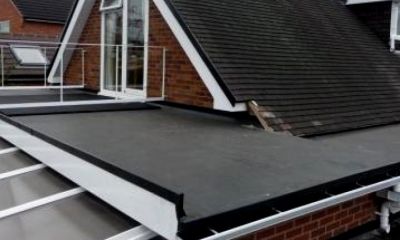 Initially created for commercial use, rubber roofing is gaining popularity as a long-lasting roofing material for flat and low-slope residential roofs.
There are two types of rubber roofing: EPDM (Ethylene Propylene Diene Monomer) is UV resistant and does not require a mineral coating when completed, making it lighter than tar and gravel.
TPO (Thermoplastic Polyolefin) is a reflective roofing membrane made from polypropylene, and ethylene-propylene rubber polymerized together. An excellent, yet cost-effective membrane suitable for all types of single-ply systems with guarantees up to 30 years.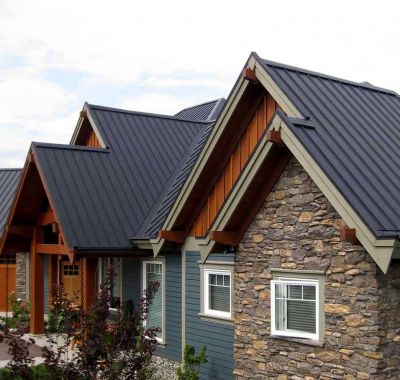 Once only for warehouses, metal roofs seem to be popping up in every neighborhood nowadays. One of the reasons is durability: metal roofs have a life span of 30-50 years. Another reason is aesthetics: the look of a standing seam roof is sleek with clean, bold lines. The assortment of colors is sure to complement any type of building. And who doesn't love the sound of rain on a metal roof?
The best advantage of standing seam metal roofs is contained in its name: seams are raised above the water level of the roofing panel, making them superior to traditional flush-mounted materials.
The materials used for metal roofing include steel, aluminum, zinc, and copper.
If eco-friendly is important to you, metal roofing is considered one of the most sustainable materials available because it contains no petroleum, is regarded as a "cool-roof" therefore is energy-efficient, and is 100% recyclable. In fact, most metal roofs are created, to begin with, from recycled materials.
Standing seam metal roofing is more expensive than shingles, but pay off by increasing resale value. Unfortunately, they cannot be used on low-pitch or flat roofs.
11 Gregory Drive
S. Burlington, VT 05403