Front doors usually don't get treated with the importance they deserve. When people think about curb appeal, the focus tends to be in the landscaping, siding, and lighting. We often forget that the front door is not only the focal point of the facade but one of the most-used components of any building.
If you are wondering if it is time to replace your front door, ask yourself the following questions:
Do you have to wrestle every time you try to open or close the door?
Do you have to stuff a towel under your door to control drafts?
Is your door scratched, dented, or rusting away?
Is there moisture between the glass panels?
Is your door weathered, warped, cracked, or unlevel?
Does your door look unintentionally vintage or "retro"?
If you answered yes to any of the above questions, it is probably time for a door replacement. A new door will not only enhance the appearance and add value to your home, but it will also give you energy efficiency, security, and comfort.
Once you decide to upgrade your door, you will encounter a lot of options based on size, architectural style, color, and, most importantly, material. Knowing the pros and cons of the different types of doors will help you choose the one that is just right for your home and your budget.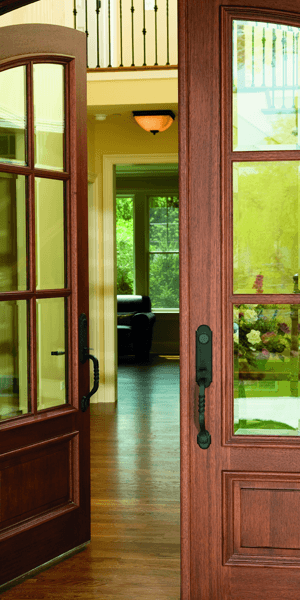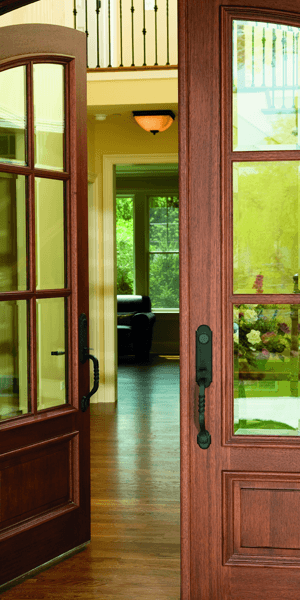 Wood is the traditional choice for exterior doors because it is not only beautiful but very customizable. Wood doors are available in a wide assortment of finishes and they can be cut to fit any size and shape entryways.
The downside of wood doors is that they are vulnerable to the elements, so they are better suited for covered areas or in conjunction with a storm door. In addition, they require periodic repainting or refinishing to prevent warping or rotting.
An alternative to solid wood is a door that has a solid core and wood-veneer. These kinds of doors are more economical, less prone to warping, and better insulators.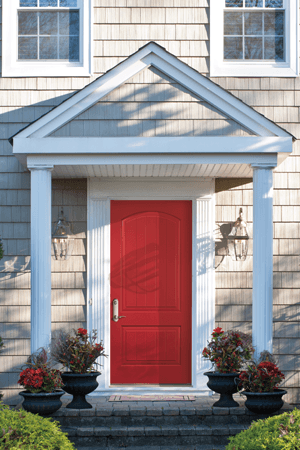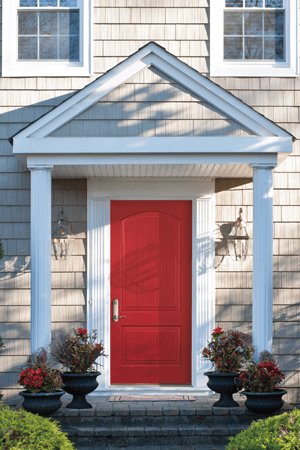 If you want the look of wood without the maintenance, fiberglass doors may be the right option. Pella has a Premium Fiberglass line with a realistic wood-grain appearance and rich stain tones that are applied in a multistep process to achieve a higher dimension and luster.
Fiberglass doors are dent-resistant, work well in extreme climates, and high-traffic areas and they are easy to install. They have an insulated core that makes them very energy efficient, and some of them are fire-rated.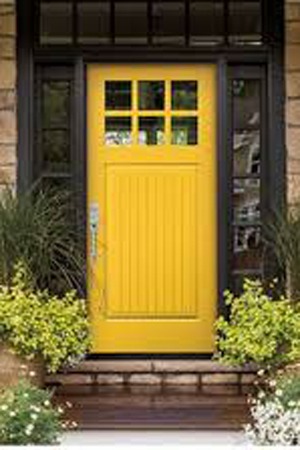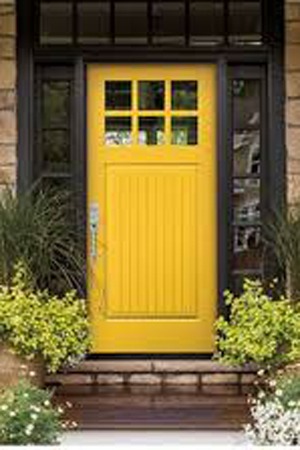 Steel doors are the safest option in the market if you are worried about intrusions.  They are also very affordable and stronger than wood and fiberglass, so they don't crack or warp. However, steel doors are prone to dents and scratches, and if the damage is left unattended, they can rust too.
Steel doors offer very efficient core insulation, and newer models come with double or triple insulating glass. They are usually part of a pre-hung system, so professional installation is recommended when buying one as a replacement of an existing door.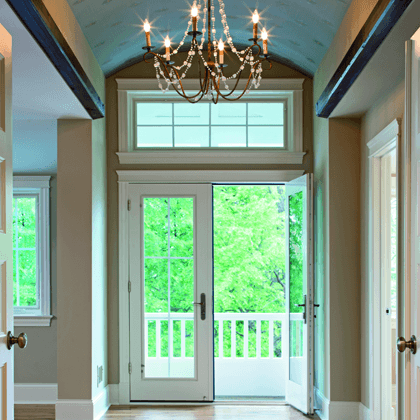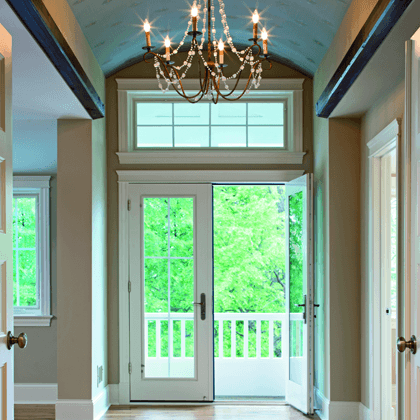 So you are ready for a front door that delivers looks, comfort, and savings.  But finding the perfect replacement door is half the battle; installation is equally important as the quality of the door itself. Improper installation could result in air and water filtrations, code violations, and it could even void the manufacturer's warranty.
A great door is only great if it is installed correctly. And that's where we can help! Polli Construction is a Pella certified contractor. That means that our team has gone through extensive training, so we have the knowledge and experience to install your new door and ensure that it performs as it is supposed to for many years to come.
11 Gregory Drive
S. Burlington, VT 05403