To book textured ceiling removal services, please visit our sister company Expert Painters
Very few things date a space like a textured ceiling, and not in a charming way. They were very popular in the 1950s because they made easy work of finishing ceiling and hiding imperfections, but started going out of style around the same time disco did, as people discovered that they are difficult to repair, hard to clean, and dust and spiderweb magnets.
When a textured ceiling gets water damage or pieces simply fall off, replicating the original pattern is virtually impossible. You have to remove, cover, or re-texture the surface every time. That is why most homeowners choose to remove the texture permanently and gladly welcome smooth ceilings.
Our approach for removing the texture will depend on the kind of ceiling. There are two basic kinds of textured ceilings: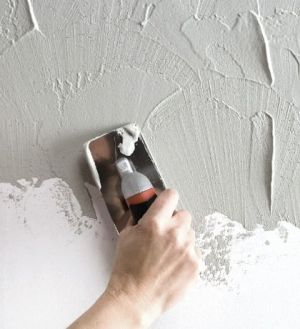 This texture is achieved by applying drywall compound or plaster to the ceiling using tools like trowels, brushes, and rollers. Only one person can do the room since every tradesman's technique varies, creating a unique pattern. If the texture is adhering to the ceiling, we can skim coat over it with a few applications of drywall mud, then sand and paint it. If the texture is falling from the ceiling, we need to scrape it off and skim coat the surface until smooth.
Another option is to apply a layer of drywall over the ceiling, tape the joints and then paint. The walls will also need to be painted, or crown molding can be installed for a more upscale look.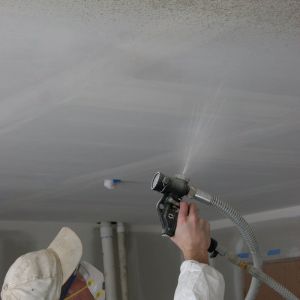 This application requires a machine that pumps the texture material onto the surface, creating a "popcorn ceiling."
Popcorn ceilings were by far the most popular application in Chittenden County. They hid imperfections in the drywall and deadened acoustical sound. The downside of sprayed textures is you cannot clean or repaint them with a roller. Instead, they need to be professionally spray painted. Sprayed textures typically do not bond well to the ceiling, so the best approach to remove them is by soaking and scraping them off, then skim coating before painting.
Just as with manually applied textures, we can also add a layer of drywall over the surface, tape the joints, and put on a couple of fresh coats of paint.
Depending on when the spray textures were installed, they may contain white asbestos fibers, so removal requires sealing the room and containing the debris. By applying water, we can stop the fibers from becoming airborne.
11 Gregory Drive
S. Burlington, VT 05403