The look and feel of a home largely depend on the flooring. Since it's the largest surface in a room, it not only dictates the design style but also influences color, texture, and pattern choices. But looks shouldn't be the only consideration when choosing a floor; factors like cost, location, maintenance, and durability will play a significant role in your selection. Let's take a look at the most common flooring choices: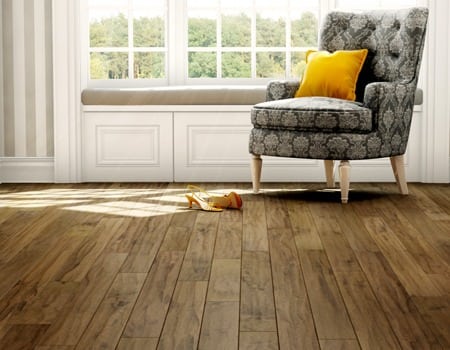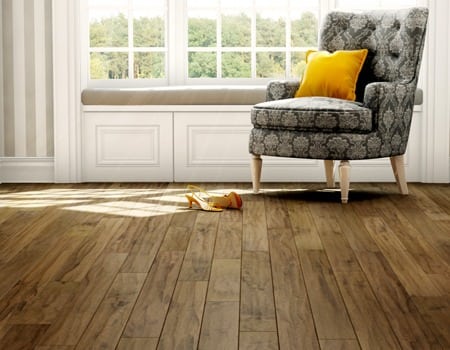 Hardwood is still the number one flooring choice due to its durability, warmth, and timeless charm. Wood floors not only last a lifetime, but they gain character as they age. They come in many styles such as plank, parquet, or prefinished boards. The price varies widely based on the type and grain of the wood. The varieties are nearly endless, from pine to Brazilian cherry, oak, maple, ash, and walnut just to name a few.
Hardwood can be used in any room except for high moisture areas like full bathrooms or laundry rooms.
If you have pets, their nails are likely to scratch the floor, but wood floors can be sanded down and refinished several times. Some people purposely refinish over the scratches and dings to obtain the "distressed" look.
Engineered wood flooring is created by bonding layers of hardwood together in a cross-grain construction. These layers give the final product greater stability; therefore, it can be installed in bathrooms and basements. It is also a more sustainable option, as the whole tree can be used to create the planks.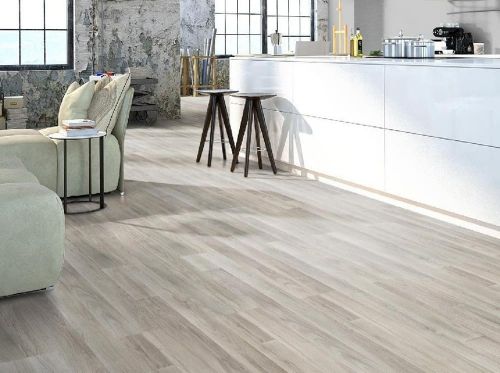 Once frowned upon, laminate flooring has come a long way since it was first introduced to the market. With the advance of printing technology, it can realistically mimic any material at a fraction of their cost.
Designed to be affordable and durable, laminate flooring can be installed in any room, including high traffic and high humidity areas, and it's rapidly becoming a favorite for homeowners with kids and pets.
The lamination process used to create this synthetic flooring consists of four layers: The wear layer is an easy to clean surface, which is also scratch and stain-resistant. The decor layer is a high resolution printed image that can recreate the natural look of wood, tile, or stone. The core layer gives laminate its structure and dent-resistant properties. And the backer layer, which provides additional support and stability.
Although laminate is extremely durable, you still want to keep it clean and dry. Dirt and sand can scratch the surface over time, and standing water can seep through and cause the planks to swell and warp. A quality underlayment is required to block moisture and to prevent a hollow sound when walking on laminate flooring.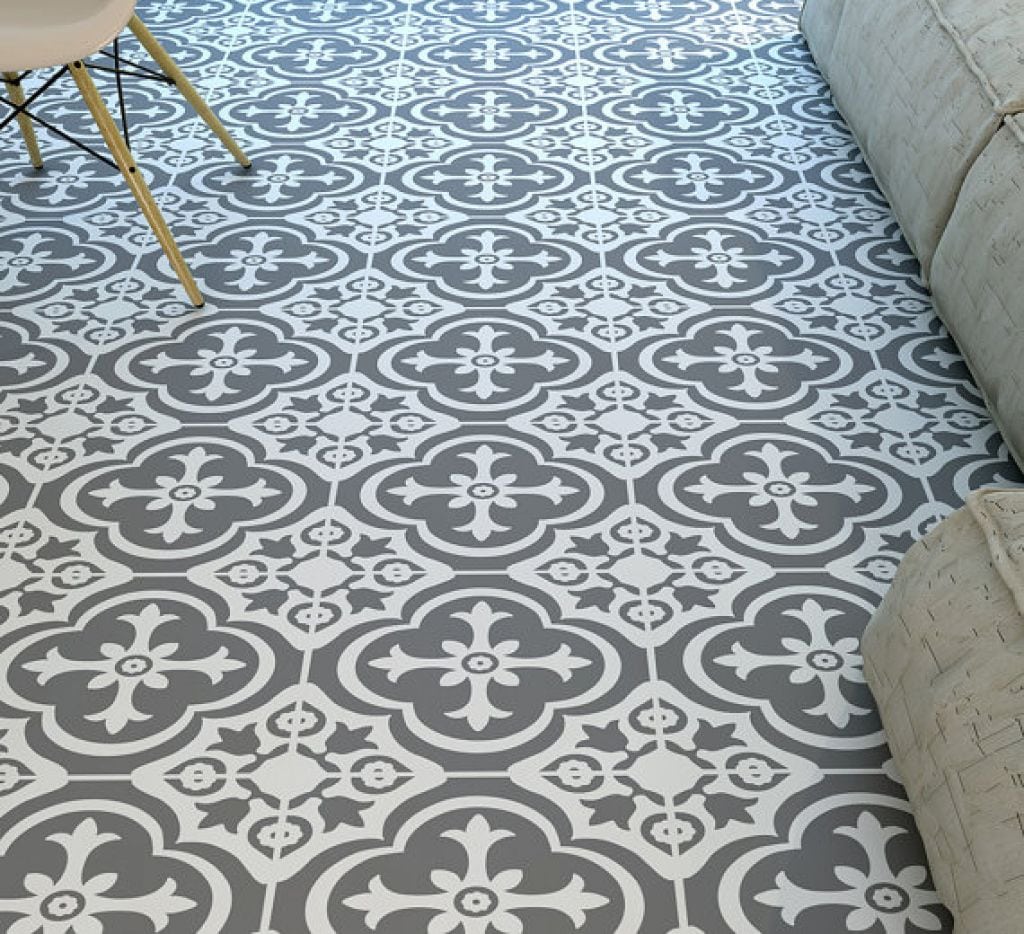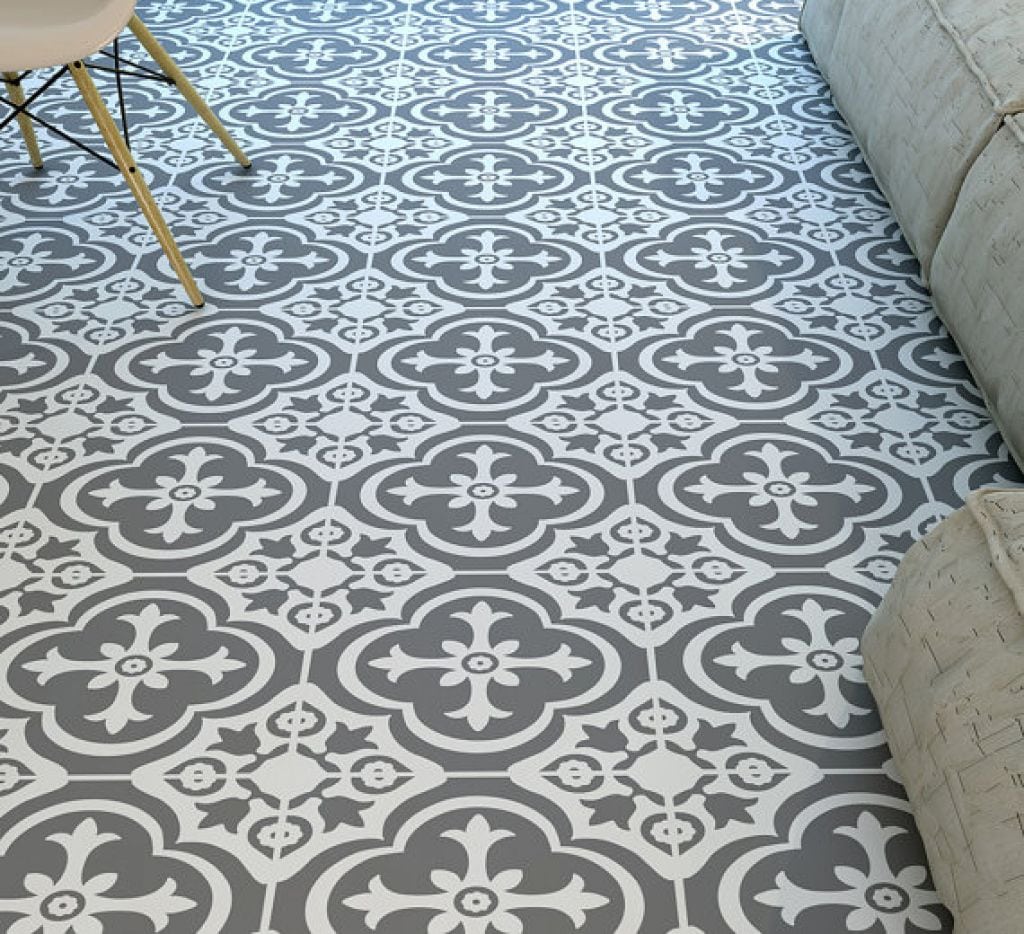 Vinyl is one of the most resilient, versatile, and affordable flooring options you can buy. They come in tile, plank, and sheet form, and since it's waterproof, it can be installed anywhere in your home.
You're missing out if you haven't seen the latest advancements with vinyl flooring, especially vinyl tile. With 3D printing technology, today's vinyl tile has the look and feel of real ceramic or stone tile, yet costs far less. Some varieties are designed to be laid end to end, while others can be grouted like real ceramic or stone tiles, which gives you an even more authentic look.
Another tile option is Vinyl Composition Tile or commercial VCT, which is designed for high-traffic areas and typically used in industrial settings.
Vinyl planks are an economical and durable alternative to hardwood floors. Commonly manufactured 4 or 6 inches wide by 3 or 4 feet long, they realistically mimic any type of wood, by color and texture. Like vinyl tile, vinyl planks are waterproof, but gaps need to be sealed to prevent moisture from seeping through your floor.
Sheet vinyl is ideal for high-moisture areas like bathrooms because it can be installed seamlessly. It comes in 12-foot widths cut to measurements or in prepared rolls. The adhesive types and installation methods will vary by floor style.
Tile is timeless and elegant, and it adds value and beauty to any home. Once reserved for busy entries, baths, and kitchens, tile is making its way into every room in the house. There are three main types of tile: ceramic, porcelain, and natural stone.  To learn more, visit our Tiling page.
Tile flooring is waterproof, easy to clean, and very durable but also cold and hard on bare feet. Radiant heating is always a great option to make it more welcoming, especially during those long winter months in Vermont.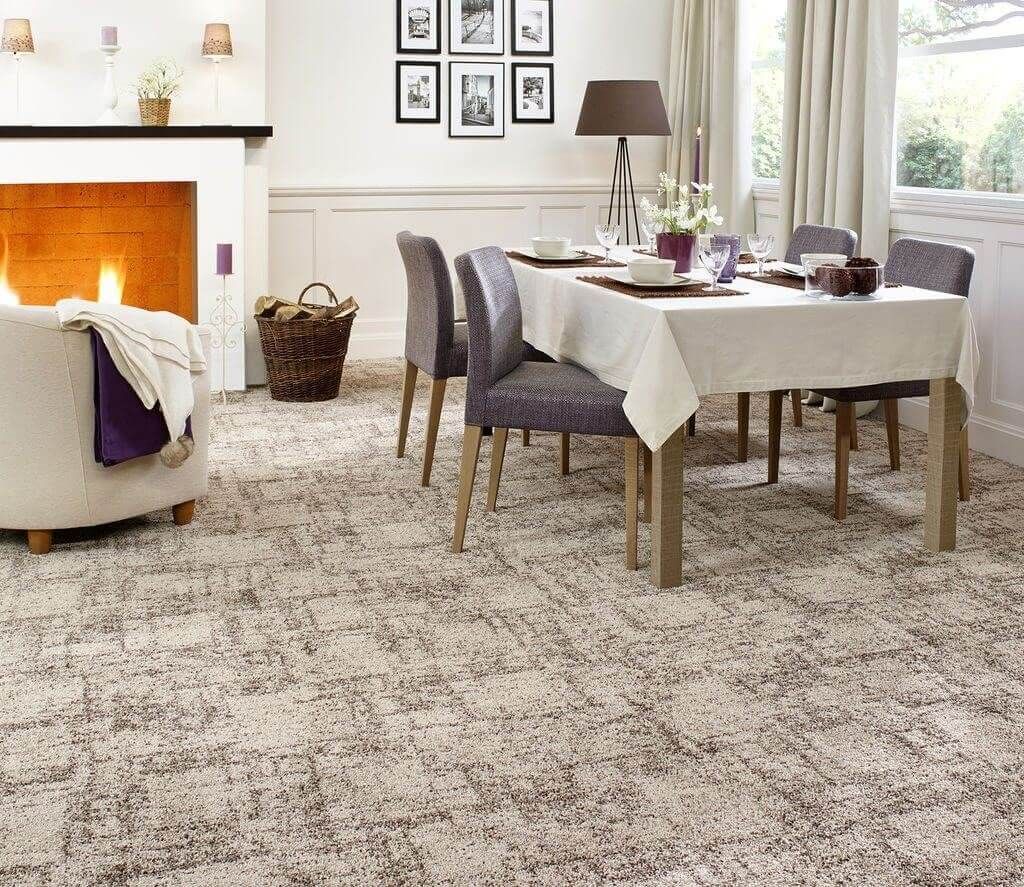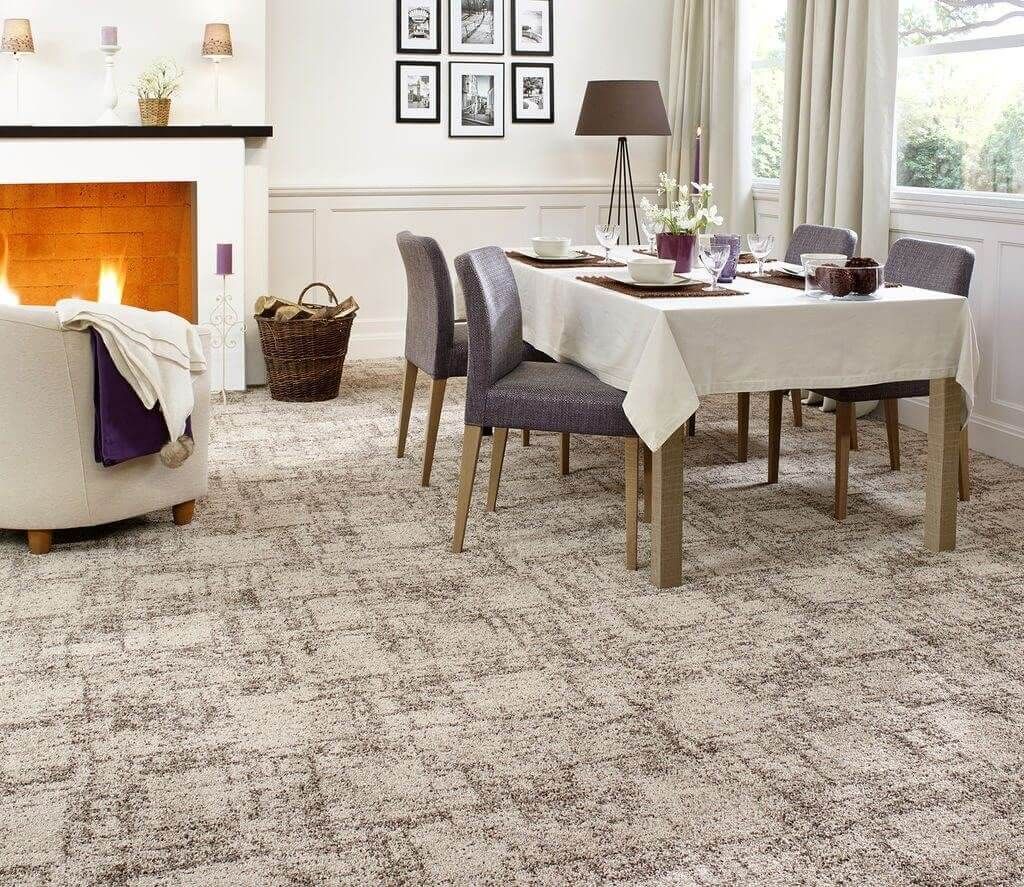 Carpet is perfect for rooms where underfoot comfort is essential, like a bedroom or a family room. It comes in so many colors, textures, loops, and patterns that it's sure to fit almost any style and budget.
Carpet is an excellent thermal and acoustic insulator, which translates into lower energy bills and quiet rooms. However, carpet requires higher maintenance than hard surfaces as it absorbs moisture, stains easily, and regular foot traffic is enough to wear out the fibers over time. Proper underlayment is vital to extend carpet longevity, add cushioning, and keep it cleaner.
Once used only for driveways, garages, and basements, concrete floors are now considered a fashion statement when applied to a living space.  Modern techniques for finishing, like adding a dye as the wet concrete is being mixed, or treating the surface with an acid stain afterward, have turned concrete floors into a one-of-a-kind, walk-on piece of art.
The same properties that make concrete floors so durable also make them easy to care for. Properly sealed, concrete floors are water, stain, scratch, and impact resistant. A little sweeping and damp mopping is all that's required to keep them looking like new.
But if you think that tile is hard and cold, try standing on concrete for more than a few minutes at a time. And if you drop your favorite coffee cup, it won't stand a chance. Fortunately, radiant heat is an option to add warmth to the room, and concrete does an excellent job transferring it efficiently. Area rugs can alleviate the hardness issue while adding noise reduction and style.
Linoleum is making a big comeback primarily as a green flooring choice. An all-natural alternative to vinyl, linoleum is made mainly of linseed oil, rosins, wood flour, and jute backing. Because it doesn't contain any potentially harmful volatile organic compounds, it doesn't create any adverse health issues during production, installation, use, or disposal.
Since the color runs all the way through rather than just on a printed layer, linoleum is exceptionally durable, and it can be used in high traffic areas. The average lifespan is about 30 years, but it does need to be resealed periodically.
Linoleum comes in a wide variety of colors, from quiet neutrals to vibrant hues. One of the most popular brands is Marmoleum. Choose from sheets that allow you to create borders and insets or tiles that can be arranged in any imaginable pattern.
When considering flooring, don't overlook two of the most eco-friendly options: cork and bamboo.
Bamboo flooring is engineered with tongue-and-groove joints and pre-finished, just like any standard solid wood flooring. But bamboo is not a tree but a fast-growing grass. Although lightweight, this plant has the tensile strength of steel, which makes it harder than most hardwoods. When most hardwood trees can take 120 years to grow to full size, bamboo is grown in controlled forests and takes just three to five years to reach maturity. Bamboo is recyclable, biodegradable, and a great option to help reduce our dependence on hardwoods.
Cork is a green flooring alternative that is also sleek and versatile. It's cellular structure, set up like a honeycomb, not only makes this material soft and warm underfoot, but it also causes it to absorb vibrations and sound and bounce back if dented. Cork comes in tile or plank form, in a variety of colors and sizes. It does require sealing; some corks come pre-finished, some others need to be sealed after installation.
11 Gregory Drive
S. Burlington, VT 05403