A basement remodel can add substantial square footage to your home. Whether you are creating another bedroom, bathroom, office, or play space for the kids, a basement can be a wonderful place to retreat during those hot, humid Vermont summer days.
These are the primary considerations for turning your basement into a place you'll be eager to spend time in:
Before beginning the planning process, make sure there is no water seepage in the basement. Visible signs are pools of water or drips coming through the below-grade walls. Outside, the ground should be graded away from your foundation. Any cracks in the foundation walls need to be addressed before starting work. 
Another essential step is to insulate the walls. A sound insulation job will effectively separate the cold concrete or block from the framing and finished walls, preventing condensation and mold growth.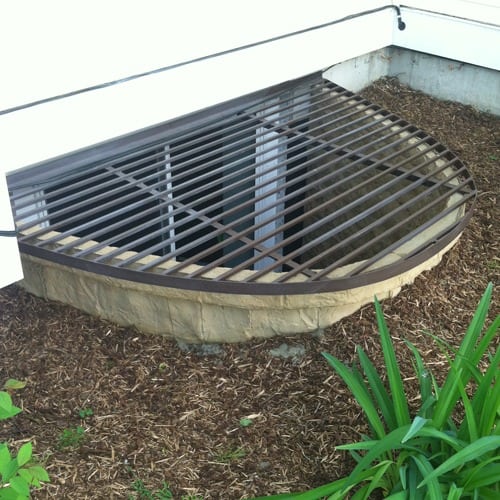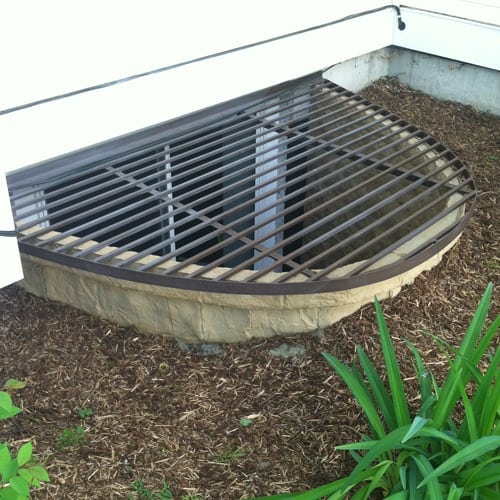 Emergency exits are required in basement sleeping rooms or any habitable space -defined as an area used for living, sleeping, eating, or cooking. While that does not include areas like bathrooms, closets, halls, storage spaces, or utility spaces, it does include offices, recreation rooms, bedrooms, and home theaters. Learn more about egress requirements.
There are also codes for ceiling clearances, landings for the bottom of stairs, the height and depth of the steps, plumbing, and electric. For example, the national electric code calls for outlets on walls every 12′ on any wall wider than 24″, and GFCI (ground fault current interrupter) outlets in bathrooms and above countertops.
Keep the space housing HVAC units and water heaters clear, open, and unfinished. These areas have specific code requirements for spacing and framing and need adequate access for inspection and/or repairs. It's also a good idea to insulate your pipes; foam insulation sleeves will prevent heat loss from hot-water pipes and condensation from cold-water ones.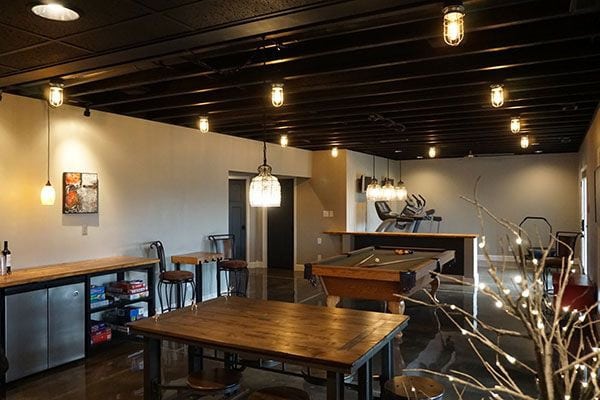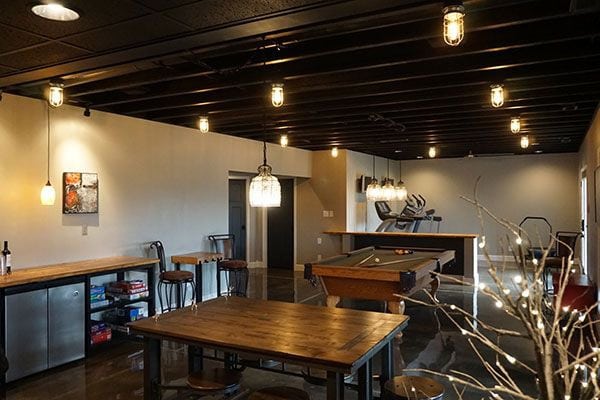 A drop ceiling with removable tiles offers a way to conceal electrical and plumbing lines while allowing easy access when needed. Ceiling tiles have gotten a considerable face-lift in recent years, so your basement doesn't need to look like a dated office. You do need a few extra inches of headroom to hang the grid, and many codes call for 7 to 7½ feet of clearance. If the height is an issue, consider incorporating the exposed frames and lines into the design and making them a feature.
Basements don't get as much natural light as other areas of your home, so you'll need more fixtures to create a welcoming environment. Recessed cans broadcast light in a cone shape that's wider at the base; if you're using them, space them closer together to avoid dark spots. A good rule of thumb: Divide the ceiling height by 2 to get the maximum distance between cans.  Pendant lights and sconces help define spaces and create the right mood for different activities.
Another way to make your basement inviting is to create an open stairwell. It visually connects the upper part of the house with the lower and allows more natural light to come into the basement.
The floor in the basement doesn't play by the same rules as regular floors. Even when the weather is dry, basement floors can create condensation due to their proximity to the ground. Dampness creates an ideal environment for decay, rot, and mold growth. Basements are also at higher risk of flooding. So it's all about moisture: how to avoid it and how to wring the flooring dry in the event you cannot avoid it.
Harder materials like tile outperform soft materials in basements, but they are not as warm and welcoming. The good news is that there are plenty of other options in the market. If you want carpet in your basement, you need to be prepared for having to replace the whole thing in the event of water damage.
11 Gregory Drive
S. Burlington, VT 05403