For many people, designing and building a home where every single detail is customized to fit their needs is the ultimate dream. But building a house from the ground up is not a simple job, and it can take a year or more, so you want to make sure you hire the right crew.
Here we give a breakdown of what you can expect when embarking on this exciting adventure.
One of the best approaches for new construction is Design-Build, a method of project delivery in which one entity works under a single contract with the project owner to provide design and construction services. It is an alternative to the traditional design-bid-build project delivery method. Under the latter approach, design and construction services are split into separate entities, separate contracts, separate work. Design-Build is a more practical approach: One team working together from start to finish in open communication and purposeful collaboration to deliver superior results.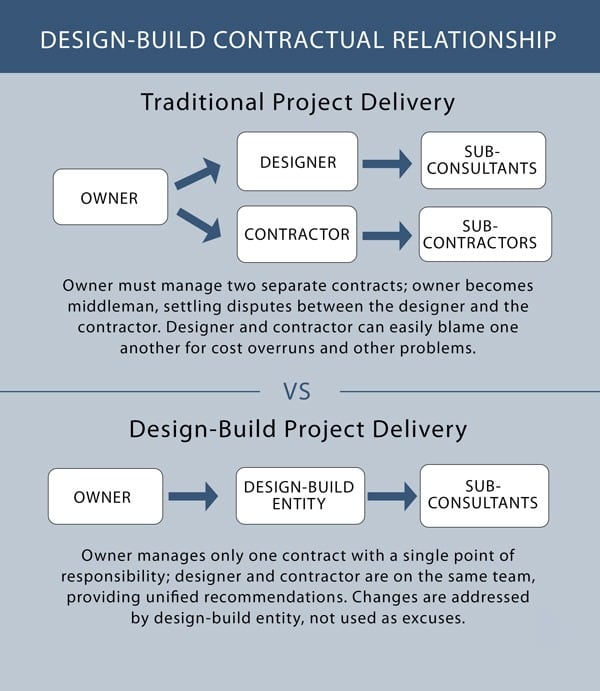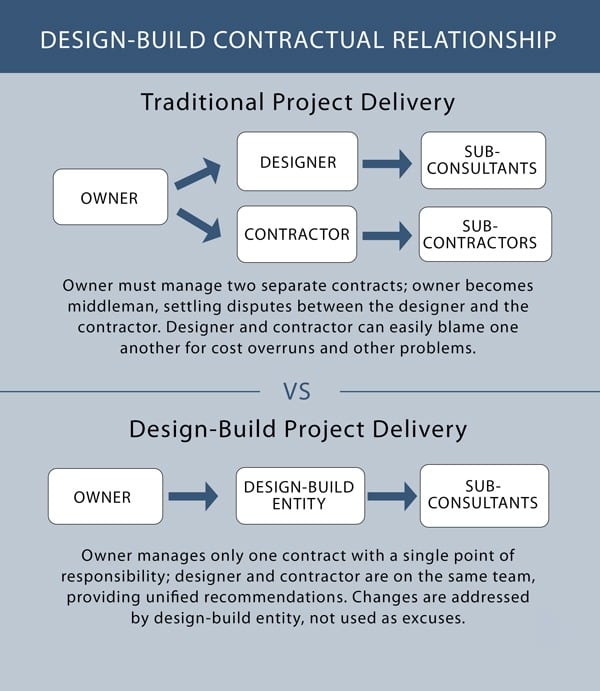 Hire your Design-Build team first! Ideally, you want to be working with your team before you buy the land, so they can help you select the perfect lot. In addition to the general location, which is probably your primary consideration, you'll need to assess how suitable the lot is for building, what utilities are available, and how the property is going to be accessed. The zoning rules of the area will determine what kind of home can be built on the land, which could hamper your dream design. Beyond that, professionals can asses the site opportunities like views, sunlight, shadows, etc. If you are going the traditional route, hire an architect to help you with all the above.
The assessment phase is crucial for any project, regardless of the size. It begins with your team learning about you and your needs, goals, and budget. Architects and engineers start architectural, structural, mechanical, and electrical assessments. While the design team gathers this critical information, surveyors perform a field assessment to define critical parameters like codes, topography, climate, and on-site resources.
With all the above information, your team will be able to set the scope of work and start developing your vision.
At this stage, your team has a solid understanding of your needs, budget, job site, and overall requirements of the project. Next, the project manager will sit down with the architectural and construction teams to value engineer cost savings into the design. Here is where Design-Build differs from other construction methods. Architects work on the same team, under the same contract, with the engineers and builders. All key members come together to create a holistic design.
Once the big picture has been defined, preliminary schematics turn into detailed architectural drawings. At the conclusion of this process, owners receive a set of construction drawings and a project schedule.
If you are going the traditional route, this is when you submit your project to bidding and select a contractor.
Using a Design-Build team will save you time because they can get the job site ready as the design progresses, and even some construction can begin during the design phase. You'll still have all the same quality standards as you would in other methods, but by overlapping construction and design, the job will get done faster.
The following advice applies, whether you decide to hire a Design-Builder or separate architects, engineers, and contractors:
Don't rush the planning process. Designing is an organic process that needs constant communication and feedback between all the parties involved. Changing things while they are still on paper is cheaper than doing it once construction starts. So take your time planning and designing and avoid jumping into the building stage before you're ready.
Check references and licensing. Do this for any professionals you need to hire. We have an article that gives you tips on how to find the right team
Get everything in writing. You should receive an estimate laying out what services are to be performed, the timetable, and a schedule of progress payments.
11 Gregory Drive
S. Burlington, VT 05403