There are numerous benefits of bathroom remodeling; improved aesthetics, safety, and comfort are just a few. Updating your bathroom also increases your home resale value, with a return on investment of up 80%. But bathroom remodels are often one of the most expensive renovations you can take on when it comes to square footage pricing ($250 to $600 per sq ft). A lot of work goes into that small space!
The cost of a project is based on the complexity of the job and the materials selected, but in the table below we give you a breakdown of the most common expenses so you can get a ballpark figure. The lower price range applies when you keep the original layout and choose standard fixtures. If you move the components, select high-end fixtures, or add tile to the floor and walls, the project will end up on the higher end of the cost spectrum.
BATHROOM COMPONENTS

Bathtub
Most tubs are acrylic or fiberglass, but you can still find cast iron ones.

$300 – $1,000

Shower Stalls
Acrylic or fiberglass, the price includes the base and side walls.

$300 – $1,200

Shower Door Kit
Simple stall door. We install these standard units into a pre-made shower stall.

$350

Custom Glass Shower (per glass panel)
3/8″ thick temperated glass. Frameless glass doors cost about the same per unit.

$800 

Tub Faucet & Overflow

$100 – $400

Shower Mixing Valve

$200 – $600

Shower Head

$50 – $200

Sink Faucet

$50 – $200

Tile & Grout per square foot
Porcelain tile is a popular choice for bathrooms because it offers greater stain and water resistance than ceramic tile. Natural stone is a pricey option that requires maintenance, but its beauty and elegance have no comparison.


$5 – $50 

Linoleum Floor per square foot
Linoleum is making a come back as a durable, stain and water resistant, eco-friendly material.


$1 – $2 

Sink & Vanity Combo
Nowadays you can get a pre-packaged unit in almost any style and dimensions.

$350 – $850

Custom Vanity

$1,500 – $3,000

Pedestal Sink

$150 – $400 

Vanity Light

$75 – $500

Light/Fan Combo
The fan should be sized to move the correct amount of air, based on cubic feet per minute (CFM)


$85 – $400

Toilet
If the toilet is in good shape, you can upgrade the seat for less than $50

$150 – $800

LABOR COSTS

 

Demolition (includes disposal fees)

$800 – $3,000

New Drywall per square foot
Includes moisture resistant drywall, tape and three coats of mud.

$5 – $8

Wainscoting per square foot (includes materials)

$15 – $25

Tiling per square foot

$9 – $22

Plumber per hour

$80 – $100

Electrician per hour

$80 – $100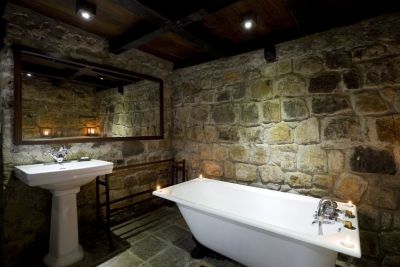 If you are lucky enough to have a home that was built above the sewer lines, the plumbing will attach in the same manner that the existing bathroom(s) above ground. On the other hand, if your sewage pipes run above the basement level, you will need a macerator pump system. Because the flow of wastewater depends on gravity, fixtures located below the level of the main sewer line require some means of elevating that wastewater so it can flow properly. These pumps run from $400 to $1,100.
Bathroom remodels are usually not small investments, but they are worth it. Take the time to weigh the options and think about what works best for you before talking to a qualified contractor. Also, read our article on how to find a good contractor in Vermont.