As energy efficiency becomes day by day more relevant in our society, Vermont has adopted its own set of building energy codes. The Vermont Residential Energy Code (officially called the Vermont Residential Building Energy Standards) is a minimum standard of energy efficiency that pushes to increase energy efficiency beyond long-held conventional insulation and construction practices. The objective is to reduce energy consumption and lower home operating costs while achieving more comfortable environments to live in.
The Vermont Department of Public Service has put together a Handbook with all the information you need to know about Vermont's energy code and step-by-step instructions on how to meet those requirements.
Click here to download the publication or call the Energy Call Assistance Center at (855) 887-0673 to request a hard copy.
When making alterations or repairs to existing homes.
During new construction. This includes new homes as well as additions. Make sure you review the requirements before starting as it will be easier and less expensive to make modifications at this stage to ensure compliance.
Upon Completion. State law requires every Vermont builder to self-certify that the home complies with the code as built, altered, or repaired.
Detached one and two-family dwellings.
Multi-family and all other residential dwellings three stories or fewer in height.
Additions, alterations, renovations, or repairs to existing buildings.
Factory-built modular homes not on a permanent chassis.
Residential buildings commencing construction on or after March 1, 2015. Building for which construction commenced before March 1, 2015, must comply with the previous version of RBES.
Commercial and high-rise residential buildings over 3 stories. However, these must meet the Commercial Building Energy Standards.
Mobile homes on a permanent chassis. Except for site-built components such as basements.
Buildings or additions with very low energy use.
Unconditioned buildings.
Hunting camps or summer camps.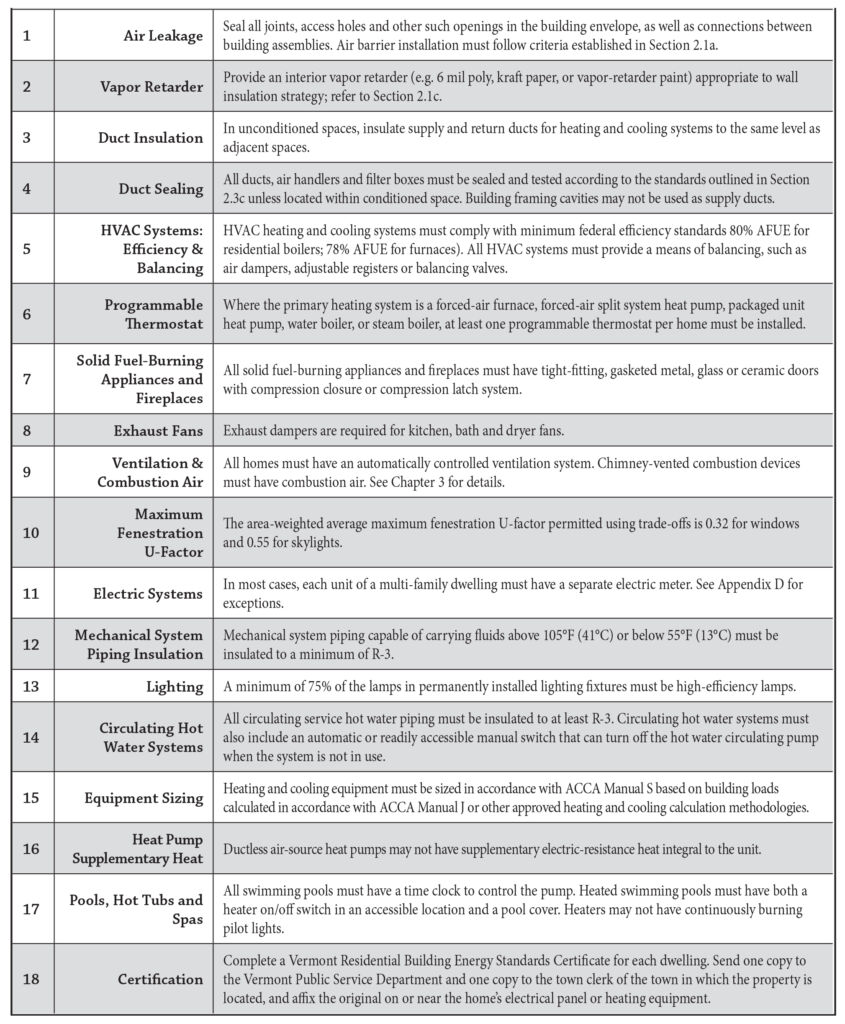 Please note that the above is only an overview of the key points for the Vermont Residential Building Energy Code. Click here to download the complete handbook.