Having a well-insulated home will not only reduce your carbon footprint, but it will also save you a lot of money in the long run on heating and cooling bills. For optimal energy efficiency, your home should be properly insulated from the roof down to its foundation. Here are the main areas you should consider: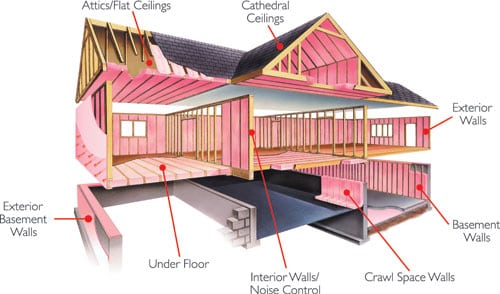 Attics: In unfinished attic spaces, insulate between and over the floor joists to seal off living spaces below. In finished attic rooms, insulate between the studs of knee walls, between the studs and rafters of exterior walls and roof, and ceilings with cold spaces above. Don't forget to insulate around the attic door as well.
Exterior Walls: Insulate all exterior walls including walls between living spaces and unheated garages, shed roofs, or storage areas, foundation walls above ground level and foundation walls in heated basements.
Floors: Insulate any floors above cold spaces, such as vented crawl spaces and unheated garages. Also, insulate any portion of the floor in a room that is cantilevered beyond the exterior wall below and slab floors built directly on the ground.
Windows: Caulk and seal around all windows and doors. Storm windows are very helpful to prevent heat loss.
Ducts: If the ducts in your home are in unconditioned space, seal and insulate them. If you're building a new house, place ducts in the conditioned space to avoid the energy losses.
Cathedral Ceilings: If you have cathedral ceilings, proper insulation will allow ceiling temperatures to remain closer to room temperatures, providing an even temperature distribution throughout the house. Cathedral ceilings must provide space between the roof deck and home's ceiling for adequate insulation and ventilation. This can be achieved through the use of truss joists, scissor truss framing, or sufficiently large rafters. Unvented (hot roof design) cathedral ceilings are also an option. The hot roof design allows more insulation to be installed in the roof cavity as the need for a vent space is eliminated.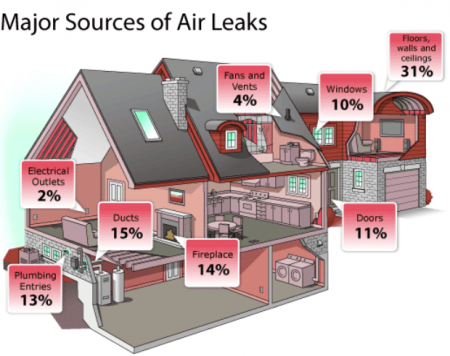 Reducing the amount of air that leaks in and out of your home is a cost-effective way to cut heating and cooling costs, improve durability, increase comfort, and create a healthier indoor environment.
Air leakage occurs when outside air enters and conditioned air leaves your house unintentionally through cracks and openings. Air leakage also contributes to condensation and other moisture problems that can affect not only the building but also its occupants.
Some of the things you can do to prevent air leaks are:
Test your home for air tightness.
Caulk and weatherstrip doors and windows.
Caulk and seal air leaks where plumbing, ducting, or electrical wiring comes through walls, floors, ceilings, and soffits over cabinets.
Install foam gaskets behind outlet and switch plates on walls.
Inspect dirty spots in your insulation for air leaks and mold. Seal leaks with low-expansion spray foam and install house flashing if needed.
Look for dirty spots on your ceiling paint and carpet, which may indicate air leaks at interior wall/ceiling joints and wall/floor joists, and caulk them.
Cover single-pane windows with storm windows or replace them with more efficient double-pane low- emissivity windows.
Use foam sealant on larger gaps around windows, baseboards, and other places where air may leak out.
Cover your kitchen exhaust fan to stop air leaks when not in use.
Check your dryer vent to be sure it is not blocked. This will save energy and may prevent a fire.
Replace door bottoms and thresholds with ones that have pliable sealing gaskets.
Keep the fireplace flue damper tightly closed when not in use.
Seal air leaks around fireplace chimneys, furnaces, and gas-fired water heater vents with fire-resistant materials such as sheet metal or sheetrock and furnace cement caulk.