Walls that spawn cracks. Doors that won't shut. Decks that lean to one side. These are all gifts left behind by bitterly cold Vermont winters. Let's take a look at the reason why this happens and how you can prevent it:
Frost heaves occur when frozen soil grabs onto an object and pushes it upward through the ground, and in the Green Mountain State, this is a factor you must consider when planning construction. Whether you are building a house, a deck or a fence, the structure must be supported by a foundation that will not shift with the frost.
Why is it that some houses are more prone to these problems than others? The answer is in your soil. Different soils react differently to freezing temperatures. Clay soils are problematic because they trap the most moisture and cause the most damage when frozen. Sandy soils drain much better, although a high water table around the house can cause even sandy soils to hold more moisture than normal.
Once spring comes around and the ground thaws, a foundation that has moved will sometimes revert back to its original height, or it could stay at that new height and heave progressively more with each new winter.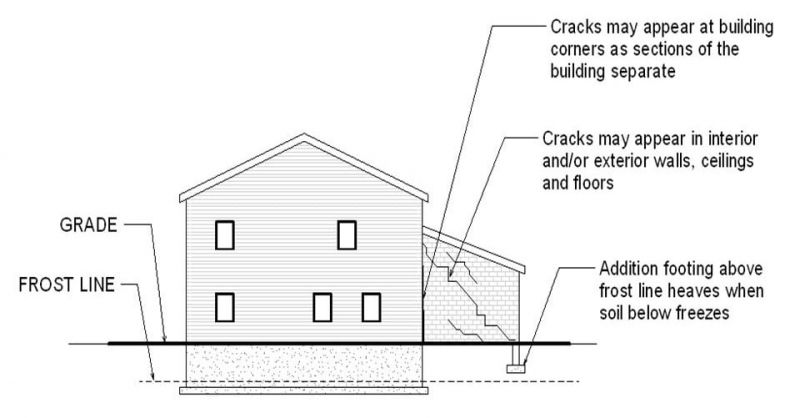 The only way to safeguard your home from frost heave damage is to have a good foundation. There are four essential elements you need:
The foundation must have a "footing" at its base. This footing is typically at least double the width of the concrete wall or concrete post it is supporting.
The foundation wall must be anchored to the concrete footing with rebar.
The footing must remain below the frost line at all times. In Vermont, where winters can get brutally cold, our engineers require the footing to be at least 54 inches below grade. In a state like North Carolina, the frost line generally goes about 6 inches down.
The concrete wall must contain vertical and horizontal rebar strategically placed within the wall to ensure that the concrete wall will not separate even if it cracks.
One of the simplest steps Vermonters can take to protect their houses from frost issues is to divert the water coming off the roof and keep it from saturating the soil next to the foundation. You can direct water away from the house with gutters and downspouts or install a perimeter drainage system.
If you already have visible signs of foundation problems, it is time to call a professional to make sure your house doesn't move south before you do.
We do a great deal of concrete repair because people don't give due consideration to frost. If you are experiencing problems, give us a call, and we will help you diagnose the problem and find a solution.