Power Washing
Power Washing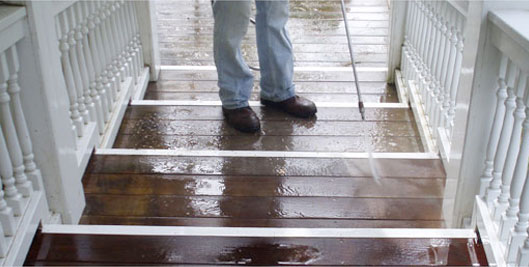 Power washing exterior surfaces and scrubbing them with a soft bristle brush will free the house of dirt and grime. This is an important step in the painting process that allows paint to bond to the surface. Power washing can also bring your vinyl siding back to life or clean the deck you thought was a lost cause.
This is also an excellent way to transform a concrete patio or sidewalk into "like new" condition. Most people do not realize how dirty their patio or sidewalk is until we blast away the dirt. We can also remove the moss and weeds between bricks on a patio, and refill the joints with stone dust.
In the wrong hands, though, a power washer can cause thousands of dollars in damage. The water pressure varies from 1500-4000 psi (pounds-per-square-inch) and can do a lot of damage to your house when used by someone without experience. The power can easily tear through wood or create different textures on the wood surface. This is no job for a novice.
Sit back and let us power wash the house safely for you. The results will be amazing.