Home Repair
Home Repair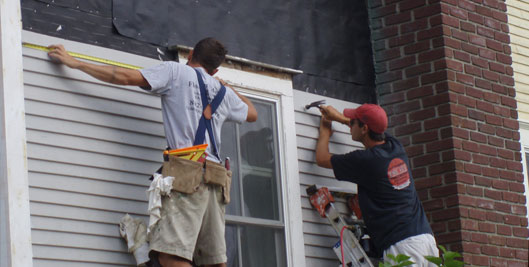 Every homeowner needs a contractor they can trust. Let us be yours!
Damage and repairs are a part of owning a home. There is always something that needs fixing, and we can repair anything you need. From drywall and masonry, to flooring and concrete, to window and door repair – we are only a phone call away.
Warning Signs You Should Look For
The most common home repairs are usually needed on the roof, in the drywall, and in other areas where rot crops up.
If you see stains on a ceiling, it's a good sign you might need to repair a roof leak or plumbing issue. Issues with wood rot can occur when the end grain on the wood is not primed, or water is directed behind the trim. Rot is usually visible from the outside of the house, unless it is hidden beneath vinyl siding. Contrary to popular belief, vinyl siding does not necessarily protect the house from water infiltration. If the channels around the siding are not perfectly installed, they can direct water inside the walls. When rot finally becomes visible inside the house, the problem has usually reached a stage where extensive repairs are needed.
Rot on wooden trim, on the other hand, is much easier to spot before the damage becomes costly. If our team spots it when they are painting they can do the repair on the spot.
Whether you have small projects or larger ones, we are happy to help.